Aktualizoval jsem předplatné a snažím se na prvním eshopu rozjet vše přes GTM.
V části věnované sledování jsem aktivoval záložku GTM. Vyplnil jsem sledovaci číslo a vypadá to, že vše funguje, protože se mi na GA začínají zobrazovat statistiky přístůpů.
Problém je ale v tom, že Rupostel nevkládá kod tak, jak má. Cituji: "GTM JavaScript code not found as a direct child of the <head> tag"
Nevím, na co vše tohle může mít vliv, ale když se snažím rozchodit v GA konverze, tak se mi nic nezobrazuje. Nemůže to mít na to vliv?
pro konverze jsem v pluginu rupostelu zaklikl "Run at cart view". Rozšíření v chrome mi v data Layer ukáže, že se nějaké data posílají, ale samotné GTm mi do GA asi nic neodešle. Přitom jsem dle návodu nastavil vše jak má být. Mám tam vytvořenou GA značku typu transakce, mám zadán správný kod měření a jako pravidlo mám vlastní značku, která je defaultně zadaná v nastvení rupostelu "fireRemarketingTag".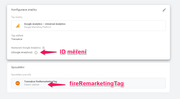 Pochopil jsem ten systém, jak to má fungovat správně?